Below I have pulled out a section of an article from CMSWire, 5 Ways Transparent Personalization Can Win Over Customers written by Michelle Hawley. I have quoted is exactly because it piggy-backs nicely with my last communications on the importance of Zero Party Data.
Zero-party data is information a customer shares intentionally with a brand. This includes preferences, purchase intent, personal information and more.
Because the customer chooses to hand this information over, it's more likely to be relevant and accurate. Brands can also be certain that zero-party data is information the customer actively wants them to know.
If you're wondering if customers will even share their personal data, the answer is a resounding "yes."
Consider these important statistics from a
2022 Cheetah Digital report
:
92% of consumers will trade personal and preference data for loyalty points
55% of consumers will trade personal and preference data to feel part of a brand's community
86% will trade personal and preference data for early or exclusive access
However, it's important to know where to draw the line. While consumers are willing to trade some information for a stellar experience, 59% said they still aren't comfortable sharing location data - even for better service.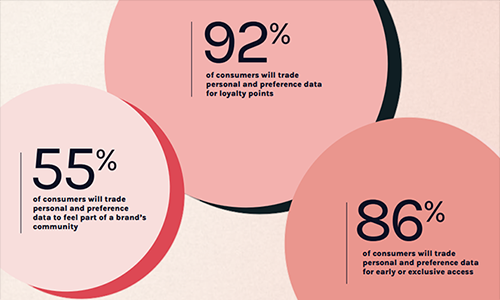 This applies to B2B and B2C equally. As I said before ShareDirect is the perfect driver to gain a willing access to customer preferences and needs. Let us hear from you.